PNG Power installs generators for Wabag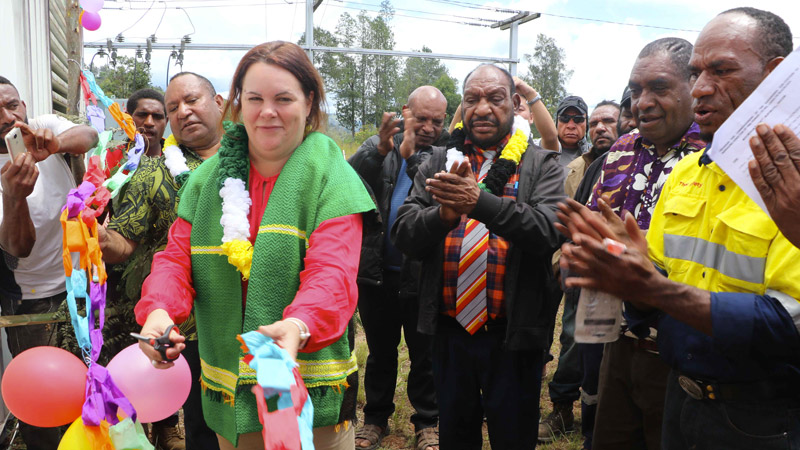 Customers in Wabag town and the surrounding areas now have a new generator installed at Rakamanda to maintain their power supply during unplanned power interruptions.
PNG Power Acting Managing Director Ms Carolyn Blacklock and Enga Governor Sir Peter Ipatas commissioned the generator on Sunday 22 April 2018.
Customers in Wabag are connected to the Ramu Grid supplied by the Ramu Hydro power station at Yonki. When there is a transmission or distribution line fault along the Okuk Highway, it affects the supply to Wabag.
However, this standby generator will quickly restore supply in such situations and continue to supply power to Wabag customers.
The power station at Keas in Wabag Town is located within a residential area and is not in operation. It would be relocated to Rakamanda in the future.
Ms Blacklock told the people of Rakamanda and Wabag that PNG Power is going to become an extremely different business.
"PNG Power will still be in the business of making sure everyone has electricity and will do it in ways which make sense, modern, efficient, renewable and affordable. You need to be on Easipay meters, we shouldn't have meter readers running around reading meters as it's something of the past.
"PNG Power needs to modernize, and in doing so we are able to deliver a much more efficient power proposition for much less cost. We have not been investing enough in Enga. I know that if we invest here, we'll get our money back and support the province's rise in infrastructure development," she said.
Sir Ipatas said the generator was installed three (3) years ago but encountered a technical issue and couldn't generate power since then. Enga provincial government also built a staff house for PNG Power operators to reside and run the generator.
He said under Ms Blacklock's management, the response took two (2) weeks and the generator is now in operation.
"We got into a partnership with PNG Power and we knew what we were into. We know it was going to cost us money but power is important for the development of this province. So we are willing to put in the money and support PNG Power," Sir Ipatas said.
"We will assist PNG Power and relocate the power station at Keas to Rakamanda. All the people of Rakamanda must take care of this generator. We will add some more houses and ensure this new power station is in good operation," Sir Ipatas added.