Restructure of PNG Power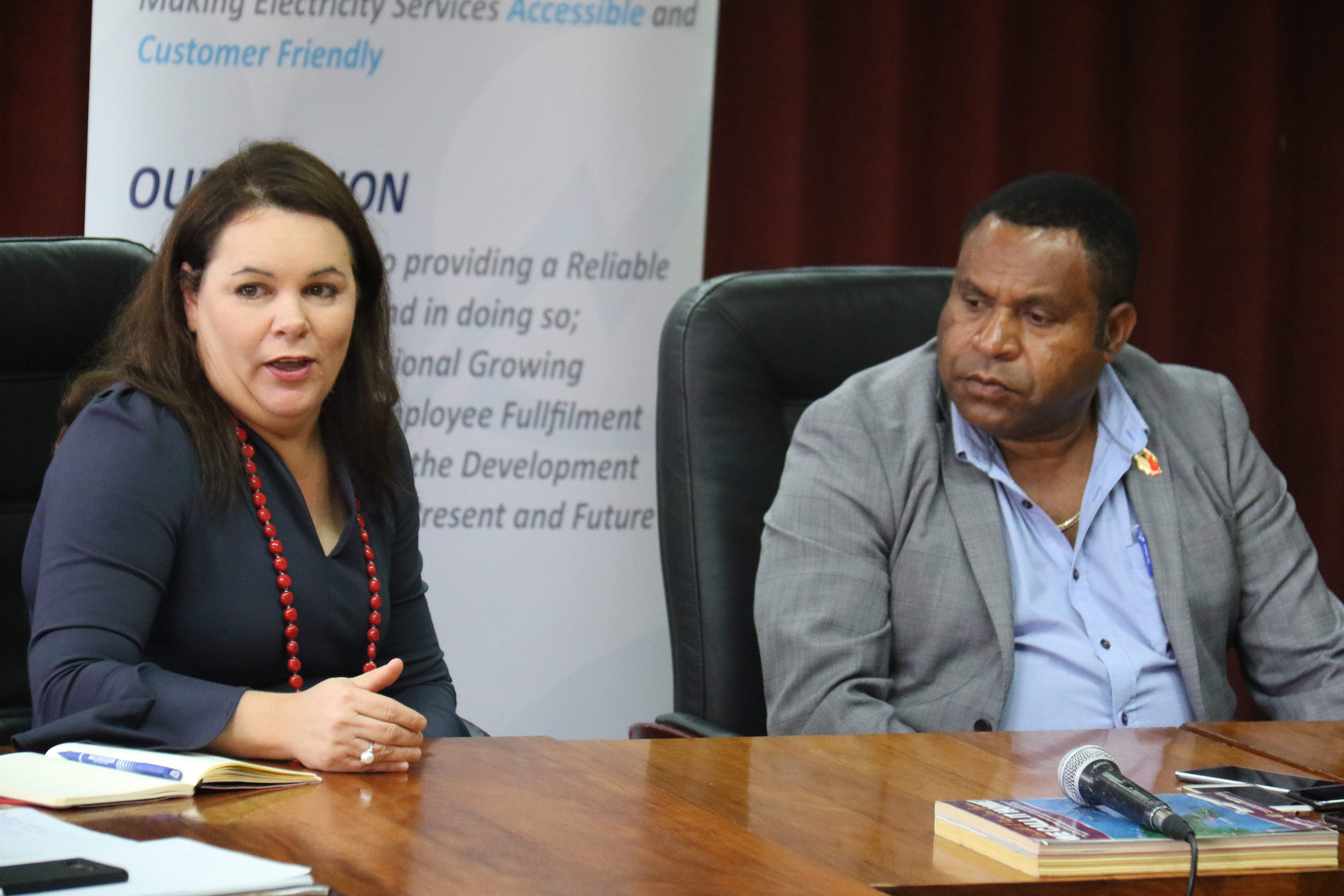 PNG Power is undergoing an organisational restructure that is designed to meet its strategic priorities in providing accessible, reliable and affordable electricity services to Papua New Guineans.
The restructure which was approved by the PNG Power Board for implementation is based on staff feedback that PNG Power is not optimally organized and our work is made harder due to the current structure.
In order to achieve our corporate goals of rapid electrification, reliability and affordability, our organization needs to be structured to leverage our skills and strengths, focus on our customers and be able to manage across vast distances.
A core principle for this realignment is to enable Papua New Guineans to reach the highest levels of leadership and drive a high performance, caring and inspiring workplace. All new roles will be graded and salaries equal to responsibilities. We need to attract the best candidate and remunerate Nationals and Expatriates the same. PNG Power will be an equal opportunity employer in every sense.
The major changes are that the top line reporting to Managing Director encompasses seven divisions made up of Generation, Transmission & Distribution, Retail, Strategy & Innovation, Procurement, Finance and Shared Services and People and Transformation.
Four Executive General Manager positions will head up People & Transformation; Generation; Transmission & Distribution and Retail. The EGMs will have technical, strategic, administrative, people, stakeholder engagement, customer service and financial responsibility for their Division.
Strategy & Innovation importance is being recognized with a Senior Director now in charge of all planning and partnerships. A Chief Procurement Officer and Chief Financial Officer make up the seven top line managers.
General Counsel will now be under the Managing Director's office to provide advice directly to the MD and Board.
The Board has appointed Mr. Douglas Mageo to the role of Chief Technical Advisor & Executive Officer. Mr. Mageo will also take on group wide responsibility for delivering process improvement so that our work is easier and more efficient to undertake. To ensure certainty, I confirm that Douglas will continue to act in the General Manager Corporate Affairs role until the restructure is complete.
To recap, the direct reports to the Managing Director position are:
Executive General Manager, Generation
Executive General Manager, Transmission & Distribution
Executive General Manager, Retail
Chief Financial Officer
Chief Procurement Officer
Executive General Manager People & Transformation
Senior Director, Strategy & Innovation
Plus: General Counsel and Chief Technical Adviser/Executive Officer in the MDs office
Changes to support greater Focus and Specialisation:
Our Customers
have been given special focus in the re-organisation and classified into Small, Medium & Large to assist with planning and resourcing for growth.
Medium and Small Centres will have Matrix Reporting where there will be dotted line reporting to the functional/technical area and straight line reporting to the Manager in the location e.g. the Generation Team in Wewak will have a dotted line reporting to the Director Thermal Generation and straight line reporting to Business Manager, Wewak. The Director Thermal Generation will provide Technical Strategy, Advice and Instructions while the Business Manager will see to the daily management and administration of the all the functions at the Centre. Same goes for Transmission & Distribution.
Medium and Large Centres will have dedicated leads for Generation; Transmission & Distribution reporting into their respective technical areas.
All Centres – small, medium and large will be headed by Business Managers who will be responsible for PNG Power's representation in the area. The Business Manager role will work most closely with Retail Division but will be the on the ground drivers of increased customer service; revenue increases including working with local leadership to decrease illegal connections.
In Lae & Port Moresby, dedicated Corporate & Institutional Client teams headed by Jack Ioela & Peter Kereka respectively will provide relationship management service to our largest customers.
Increasing Electrification & Project Delivery
All current Transmission & Distribution implementation, at present delivered by two areas - Rural Services and Asset Development, have been combined into Asset Development – Transmission & Distribution.
A unit within Transmission & Distribution, Asset Development will provide Project Support with a team including civil construction & electrical able to work across all areas of Asset Development.
Rural Services planning has been reallocated under Strategy & Innovation with a new Director role created to focus on Electrification both urban and rural and is anticipated to partner closely with District and Provincial Governments.
Impact on Existing Roles
The new structure is a significant investment in our business and is squarely focused on delivering electrification to our country at more affordable tariffs. There is a net increase in number of roles but it does result in fourteen Management roles being removed or substantially changed in the existing structure. Twenty-four new roles have been created.
Yesterday (Tuesday) I met with all Managers filling roles that cease to exist under the new structure. I wanted to make sure that I personally conveyed the message to them. The roles have been removed not the people and I want to make it clear this is not a performance management exercise. They will continue on in their roles until the restructure including the recruitment of all new roles, is completed which is expected to take around two months.
New roles will be advertised internally and externally and a transparent recruitment process undertaken to identify the best candidate. An independent assessment will be included to ensure individuals selected have behaviours that will drive a high performing, inspiring and caring workplace.
The realignment will not result in job losses for general staff but some staff may have a new Manager or be in a new Division.
The Union has been advised of this realignment and they have been assured that there are no job losses for the general staff but only changes in reporting line or the Division you belong to. The restructure will take around two months to complete. Every care has been taken to ensure that the organisation goals of affordable, reliable and accessible electricity comes to life under the new structure.
I appreciate the support to date and the feedback you have given me to enable the new structure to formulate clearly and I look forward to your commitment and enthusiasm as PNG Power readies itself to deliver on our ambitious goals.
Carolyn Blacklock, Acting Managing Director