Partnership Agreement signed with Namatanai for Power improvements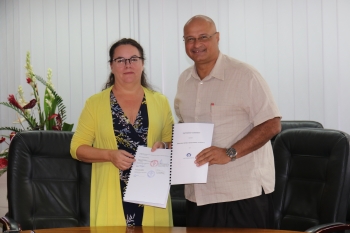 PNG Power and the Namatanai District Development Authority (NDDA) signed a partnership agreement on Thursday 25th April 2019 to re-establish electricity services at Konos and Namatanai in New Ireland Province.
This partnership will now see electricity service is provided 24 hours in Namatanai town and rural areas.
This will also enhance social and economic development activities within the district.
PNG Power and NDDA entered into an Electricity Partnership Program whereby both parties will use the necessary funds, management and supervisory skills, natural resources and materials to conduct appropriate electricity structures.
The new developments will include the refurbishment of the Sohun Hydropower Station as an option along other hybrid (diesel/solar/hydro) solutions for generation to be technically assessed by PNG Power, but installed and operated under a mini-IPP by NDDA.
PNG Power will also prioritize reticulation and retailing of electricity.
Member for Namatanai District, Hon. Walter D. Schnaubelt thanked the Acting Managing Director of PNG Power, Ms Carolyn Blacklock and her team for the partnership.
"We now look forward to achieving this Partnership Agreement together. This is also my policy position on our "Stretim Ai Dua Pastaim" (empower people first) policy to ensure important basic services such as efficient, reliable and affordable electricity is restored so it can add value to the lives of the people of Namatanai District," he said.
……………………………….
Carolyn Blacklock
Acting Managing Director
PNG Power Ltd