Gerehu to NiuPower Gas Plant Transmission Lines to be energized this weekend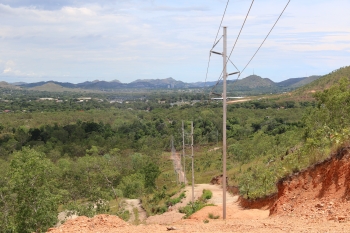 The Gerehu to NiuPower Gas Plant Transmission Line project is set to be completed tomorrow (Friday) afternoon and energised on Saturday for pre-commissioning tests to be carried out.
Today (Thursday), PNG Power and its contractor, Voltran Engineering are completing final interconnection works to the Moitaka to Kanudi Transmission lines at Kasio Circle.
Tomorrow (Friday), the team heads down to the NiuPower Gas Plant to carry out final hook-up onto the NiuPower yard, which will be the final task of the transmission lines construction.
PNG Power technical teams have been working hard behind the scenes to ensure all necessary electromechanical requirements are met for the final connection phase of the transmission lines between the Moitaka Substation, the Kanudi Substation and the NiuPower Gas Plant.
It is a significant project for PNG Power as it marks the beginning of the use of gas power into the Port Moresby Grid.
The NiuPower gas plant was officially commissioned in December and has supplied Port Moresby with 10 MW since November 29. This will now increase to 58MW beginning on the weekend with the completion and energising of the Gerehu to NiuPower transmission line.
This means PNG Power will no longer use diesel to generate power in Port Moresby but utilise it for standby purposes.
The significance of this the occasion is that it is a step in the right direction towards a Least Cost Development Plant under PNG Power's Reform Agenda to use cheap renewable energy for power generation.
The new transmission line will enable the power plant to fully dispatch its 58MW capacity and realise the potential benefits of having cheaper, reliable and clean power into Port Moresby.
The Port Moresby grid all set to run without diesel in 2020 and shows that the Least Cost Development Plan is falling into place. The same will be slowly undertaken in other centres as well.
The Ramu Grid will be fully hydro-powered by the middle of 2020 and the Samarai Solar grid in Milne Bay, Divune Hydropower Plant in Oro Province and the refurbished Warangoi Hydropower Plant in East New Britain will all be commissioned in 2020 under PNG Power's least cost generation path. The Ru Creek Hydropower Station in Kimbe and Lake Hargy Hydropower Station in Bialla are now restored and in operation.
This means a financially viable PNG Power that will reverse years of financial mismanagement, and over time lead to cheaper tariffs.
A huge thank you must go to the shareholders of NiuPower, Oil Search and Kumul Petroleum Holdings for working together with PNG Power and the National Government in ensuring this project has finally come to fruition.
Douglas Mageo, Acting Chief Executive Officer