Meter Survey to be carried out nationwide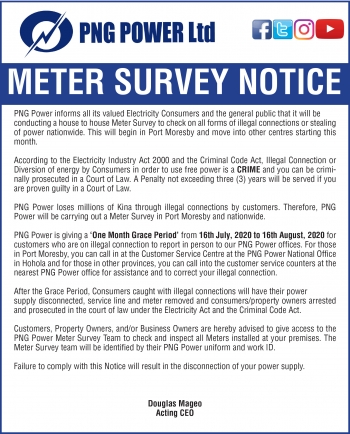 PNG Power informs all its valued Electricity Consumers and the general public that it will be conducting a house to house Meter Survey to check on all forms of illegal connections or stealing of power nationwide.
This will begin in Port Moresby and move into other centres starting this month.
According to the Electricity Industry Act 2000 and the Criminal Code Act, Illegal Connection or Diversion of energy by Consumers in order to use free power is a CRIME and you can be criminally prosecuted in a Court of Law. A Penalty not exceeding three (3) years will be served if you are proven guilty in a Court of Law.
PNG Power loses millions of Kina through illegal connections by customers. Therefore, PNG Power will be carrying out a Meter Survey in Port Moresby and nationwide.
PNG Power is giving a 'One Month Grace Period' from 16th July, 2020 to 16th August, 2020 for customers who are on illegal connection to report in person to our PNG Power offices. For those in Port Moresby, you can call in at the Customer Service Centre at the PNG Power National Office in Hohola and for those in other provinces, you can call into the customer service counters at the nearest PNG Power office for assistance and to correct your illegal connection.
After the Grace Period, Consumers caught with illegal connections will have their power supply disconnected, service line and meter removed and consumers/property owners arrested and prosecuted in the court of law under the Electricity Act and the Criminal Code Act.
Customers, Property Owners, and/or Business Owners are hereby advised to give access to the PNG Power Meter Survey Team to check and inspect all Meters installed at your premises.
The Meter Survey team will be identified by their PNG Power uniform and work ID. Failure to comply with this Notice will result in the disconnection of your power supply.
Douglas Mageo
Acting CEO