UNLICENSED ELECTRICIAN IN POPONDETTA ARRESTED AND CHARGED.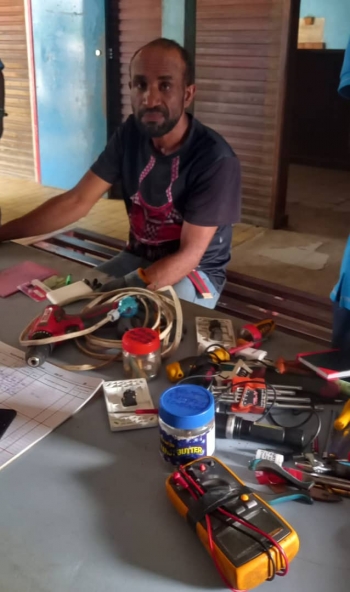 UNLICENSED ELECTRICIAN IN POPONDETTA ARRESTED AND CHARGED.
PNG Power staff and police in Popondetta have carried out a combined operation and arrested an unlicensed electrician on Wednesday 9th August, 2023.
The suspect Gabriel Afuma, 42 from Mabututu village in the Sohe District of Oro Province, is in police custody and has been charged under the PNG Electricity Industry Act, for tampering with electricity lines, preventing a meter from properly registering the quantity of electricity supplied. This offence has a fine not exceeding K1000, or an imprisonment term of not more than 3 years. The suspect will appear before the Popondetta District Court on Wednesday, 16th August, 2023.
PNG Power thanks all its customers along the Kokoda Road and Popondetta township, after they raised numerous complaints regarding Gabriel Afuma, who was bypassing Easipay meters for customers and making power connections to houses without the knowledge of PNG Power inspectors in Popondetta.
A PPL spokesman said, "This is deemed an unlawful act, and poses great risk and threat to the safety and lives of our customers, who have been receiving assistance from this Mr Afuma, an unlicensed supposed electrician."
"Mr Afuma's actions are very dangerous in nature and is a threat to all power consumers in Popondetta. The individual is not licensed and not recognised by PNG Power to practise as an electrician."
During interrogations done by police. Mr Afuma admitted to have by-passed numerous Easipay meters, and made direct connections to various new houses along the Kokoda road.
The PPL spokesman concluded, "Under Section 49 of the Electricity Act anyone who illegally removes, tampers with or destroys State property will be charged accordingly under the appropriate criminal laws."