Total Power Outage in Mt Hagen and Jiwaka due to Vandalism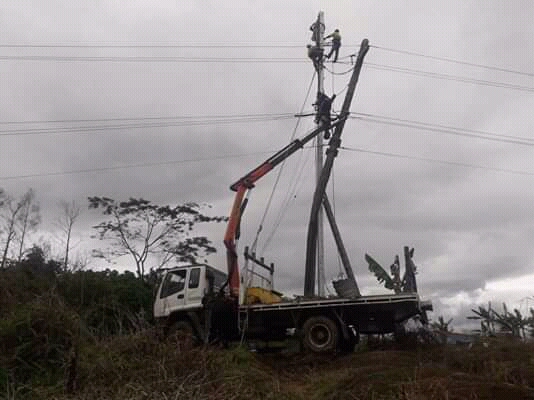 Western Highlands & Jiwaka Province experienced a total power outage over four days on the weekend due to acts of vandalism which sabotaged power supply infrastructure.
Last Friday at Wapip, in the Upper Nebilyer area, locals cut off stay wires which hold together transmission line 510 poles that run between the Dobel Substation in Mt Hagen and the Pauanda Hydropower Station on the border of Southern and Western Highlands.
On the same day at Mindima in Chimbu Province, locals cut trees onto the transmission lines 514 between Kundiawa and Kudjib Substation in Jiwaka, affecting power supply from the Ramu Hydropower Station. This affected power supply from Ramu into Western Highlands, Jiwaka, Southern Highlands and Enga Provinces.
While power supply from Ramu was off, Pauanda Hydropower Station was catering for supply into Ialibu and Mendi only while Wabag was supplied through its standby diesel generators. Mt Hagen and Jiwaka could not be supplied through Pauanda due to the issue with Line 510.
By late Monday night, power supply from Ramu into the four Highlands Provinces was restored and supply from the Pauanda Hydropower Station into Mt Hagen and Wabag was also back online.
PNG Power teams put up a new power pole at Wapip on Monday while other team also completed line connection work at Mindima.
Acting CEO, Douglas Mageo is calling on all the Provincial & District Governments, Provincial Police Commands and all the stakeholders to start taking ownership of the issue of continuous vandalism on power supply infrastructure by landowners.
"We need the support of all the stakeholders to stop this. This is government service for the people and it has been a great challenge in supplying power and dealing with vandalism to PNG Power infrastructure," he said.
He further thanked the PNG Power personnel, Police and Defence Force officers who attended to the issues at the two sites affected.
Douglas Mageo
Acting Chief Executive Officer
PNG Power