PNG Power Ltd Announces the Recommisioning of the Moitaka Power Station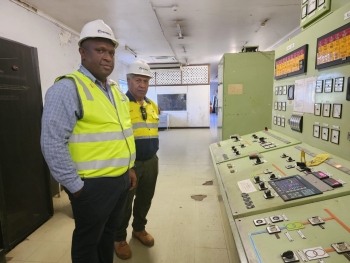 PNG POWER LTD ANNOUNCES THE RECOMMISSIONING OF THE MOITAKA POWER STATION
PNG Power Limited (PPL) is pleased to announce the recommissioning of the Moitaka Power Station.
The Moitaka Power Station was established in 1980 and has been a reliable source of electricity in Port Moresby for several decades until it was decommissioned in 2019 after several Independent Power Producers (IPP) were introduced into the Port Moresby Grid.
Initially, the Moitaka Power Station had a station output of 16 Megawatts (MW) from two Hitachi Zosen Z40 Diesel Engines (Unit 1 & 2).
Later, its capacity was increased by an additional 15 MW with the installation of a GE LM2500 (GT2) in 1990, and two Mirrlees Blackstone MK16KV Diesel Engines (Unit 3 & 4) were added with an individual capacity of 8 MW each.
The Moitaka units are high-inertia thermal engines with a significant rotational mass. This means that they can store energy and respond slowly to changes in demand, making them suitable for stabilising the grid. Their characteristics make them suitable for the Port Moresby grid application, where they can complement hydro generation. Although hydro generation is a renewable and flexible source of electricity, it depends on water availability and environmental factors. High-inertia thermal engines can provide backup power and grid stability, especially during peak hours or emergencies.
The decision to recommission the Moitaka Power Station was made after thoroughly analysing the Port Moresby grid's energy needs. Despite the decommissioning of the Moitaka Power Station in 2019 to focus on PNG Power's "Least Cost" and "Fuel Switch" plans, other energy sources could not regulate the grid. As a result, the PNG Power Board made the decision to recommission the station in the last quarter of 2022.
As of May 19, 2023, Moitaka Unit 3 is available, and it can be safely dispatched with 6MW of power. The recommissioning of the Moitaka Thermal Power Station will provide much-needed backup power and stability to the Port Moresby grid.
PPL is committed to ensuring that the Port Moresby grid has sufficient backup power and stability when required. The recommissioning of the Moitaka Thermal Station is a significant step towards achieving this objective.
Deputy Chief Executive Officer of PPL, Mr. Nehemaiah Naris, who was present to start up the first recommissioned unit, thanked all the stakeholders who contributed to the successful recommissioning of the Moitaka Power Station, especially the hardworking PPL restoration team.
The PPL restoration team will work hard to restore Unit 4 to bring additional capacity to the Port Moresby Grid in the coming months.
PPL is confident that the recommissioning of the Moitaka Thermal Station will improve power reliability in the Port Moresby Grid. PPL remains committed to providing reliable and affordable electricity to its customers.
Approved for Release
McRonald Nale
Chairman
PNG Power Board